Were You Injured In a Pam Cooking Spray Fire?
Pam Cooking Spray Cans Have A Well Documented History of Exploding, Causing Injuries
Design failures causing Pam cooking spray cans to explode during normal kitchen use is nothing new. Over the years, there have been countless reported incidents of Pam cooking spray fires injuring unsuspecting consumers, and potentially even more that have gone unreported.
A woman from New Jersey reported  2nd and 3rd-degree burns to her face after a can of Pam cooking spray near one of the burners exploded into a ball of fire.
Another exploding Pam spray can left a victim with 3rd-degree burns to their face, chest, and arms in Connecticut.
In Ohio, while using her stove, a woman was nearly killed by an exploding can of Pam cooking spray as fires from the explosion burned her face and torso.  When asked what exactly happened when the Pam spray can had exploded, she simply said she was "putting the fork in a pan" and all of a sudden she "was on fire."
Another woman from Pennsylvania was severely burned as a Pam cooking spray can exploded after accidentally falling into a hot pan.
In Colorado, chefs at a local restaurant were hospitalized after a can of Pam cooking spray exploded while being used to prepare a pan for cooking.
As we are witnessing this dangerous and deadly trend of these Pam cooking spray fires, it leaves one to wonder:
What Is Causing These Pam Cooking Spray Cans To Explode And Catch on Fire?
Dr. Michael Fox of Chemaxx has reported that the cans used for Pam cooking spray have a major design flaw that is likely causing them to explode during normal cooking use.
According to Chemaxx's research, each of the cooking spray cans had vents at the bottom of the cans that are intended to release pressure when heated to prevent the can from exploding, acting as a fail-safe to ensure that consumers are not injured. Upon further examination of the cooking spray cans, however, this fail-safe is actually one of the root causes as to why the cooking spray cans are exploding.
In a matter of steps that triggered the cooking spray cans failure for safe use, the results showed that the cooking spray cans were actually releasing pressure at MUCH lower temperatures than expected, low enough to match temperatures near a hot stove during a normal course of cooking.
Upon further examination of the contents being released from the cans during this pressure release showed that near an open flame, the contents were extremely flammable, triggering the gas released from the cooking spray can to ignite into, essentially, a ball of fire shown here:
Two major design flaws working in concert for a disastrous result that could potentially lead to more unsuspecting victims injuring themselves while using this product.
The following injuries have been directly associated with Pam cooking spray explosion fires:
First, Second and Third-degree burns to any exposed areas on the body.
Various eye injuries that could lead to blindness
Death
Are There Laws That Protect Consumers Injured in a Pam Cooking Spray Explosion Fire?
Yes, these are called Consumer protection laws. These laws are written to ensure that companies sell products that are safe for consumers to use. If a company sells a product that violates consumer protection laws and causes injuries to consumers, victims of said injuries may be eligible for compensation for their damages.
Hiring a defective product lawyer or a product liability lawyer can potentially mean the difference of being compensated for your injuries and receiving next to nothing from the company who manufactured the product. Don't take on the manufacturer alone, it is highly advisable that you seek the guidance of an experienced consumer protection lawyer who can navigate consumer protection laws and yield you the best possible result. Studies also show that victims who are not represented by an experienced attorney may settle for significantly less.
If you've been injured in a Pam cooking spray explosion fire, it is highly recommended that you speak to an experienced defective product lawyer immediately.
If you or a loved one has been a victim of a cooking spray explosion fire, call the defective product lawyers at Moore Law Firm today at 1-800-444-2780. Call now for a FREE consultation on how the product liability lawyers at Moore Law Firm can help recuperate compensation for your cooking spray explosion fire injuries today.
---
Resources You Can Use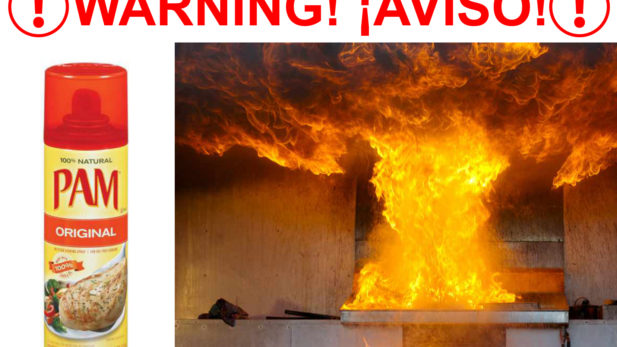 CONSUMER ALERT: Multiple reports have been released of cooking sprays cans, such as PAM cooking spray cans, exploding
---
Contact The Moore Law Firm Today
Address
4900 N. 10th St.
Suite F3
McAllen, Texas 78504
Moore Law Firm Principal Office
Moore Law Firm