How To Win A Storm Damage Claim
Stop us if you've seen this before:
Your home was absolutely wrecked by a hailstorm, a hurricane, or a flood. Shortly after the storm, you call your insurance to open up a storm damage claim. A few days pass and an adjuster, after a number of reschedulings, has finally come by to inspect your house. You see the adjuster writing some things down and you assume they're taking notes of all of your damages.  Days pass and you're confident that your claim is being taken care of and in the meantime, you've had numerous contractors provide you with estimates of how much your repairs will cost. The costs seem a little high but again, you're confident your insurance will pick up the tab. Finally, a letter from your insurance arrives. You open it, scanning the opening paragraph when suddenly your heart sinks to the floor when your eyes stumble on the word "denied" or when you notice the check they sent doesn't even cover half of what your contractor said it would cost.
You think to yourself "what happened? What went wrong? Did I do everything I possibly could to win my storm damage claim?" and the sobering answer is "probably not." However, it may not be ALL your fault as insurance carriers in general habitually deny legitimate storm damage claims.
Winning storm damage claims are actually often much more difficult than insurance carriers care to admit, but it's not entirely impossible. Like everything in life, results can never be guaranteed, but there are measures you can take to help significantly increase your chances of winning BIG on your storm damage claim.
Step 1. File Your Storm Damage Claim On Time!
This step sounds like a no-brainer but many people don't realize that there are deadlines for filing a storm damage claim. Depending on your insurance carrier and your specific policy, you may only have a short window to file your insurance claim. A legitimate storm damage claim can all go out the window if you don't file your storm damage claim on time so always check with your insurance to find out when your deadline is to file a claim. A best practice always is to file your claim as soon as possible after the storm.
Step 2. Take Photos of All of Your Storm Damage
Treat your storm-damaged home as the scene of a crime. Take many photos that help tell the story of what happened, what was damaged, and most importantly, what you need to be paid for.
Step 3.  Mitigate Any Storm Damage
Most insurance carriers have it embedded into their policies that you MUST help mitigate damages to your home by doing things such as putting a tarp over your roof to prevent water or the elements from further damaging your property. If you don't take steps to protect your home, your storm damage claim may be outright denied.
As the old expression goes "you don't bring a knife to a gun fight," trust us when we say that insurance companies are VERY well prepared to fight to keep you from getting a fair amount of money to help pay for your damages. Hiring an experienced storm damage lawyer tremendously helps level the playing field, providing you a legally trained eye in what exactly is a fair storm damage settlement or not.
Most storm damage attorneys, like us at Moore Law Firm, work on a contingency basis which means that you wouldn't pay anything upfront to start your case and a lawyer's fee payment is contingent on the amount they are able to draw from the insurance carrier, virtually costing you nothing out-of-pocket.
Download Your FREE Copy of the Moore Law Firm Storm Damage Claims 101 Guide
For more information on how you can SIGNIFICANTLY increase your chances of winning your storm damage claim, download our FREE Storm Damage Claims 101 guide today!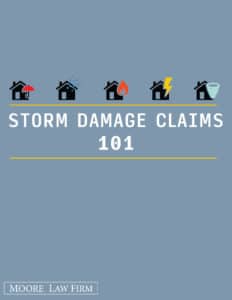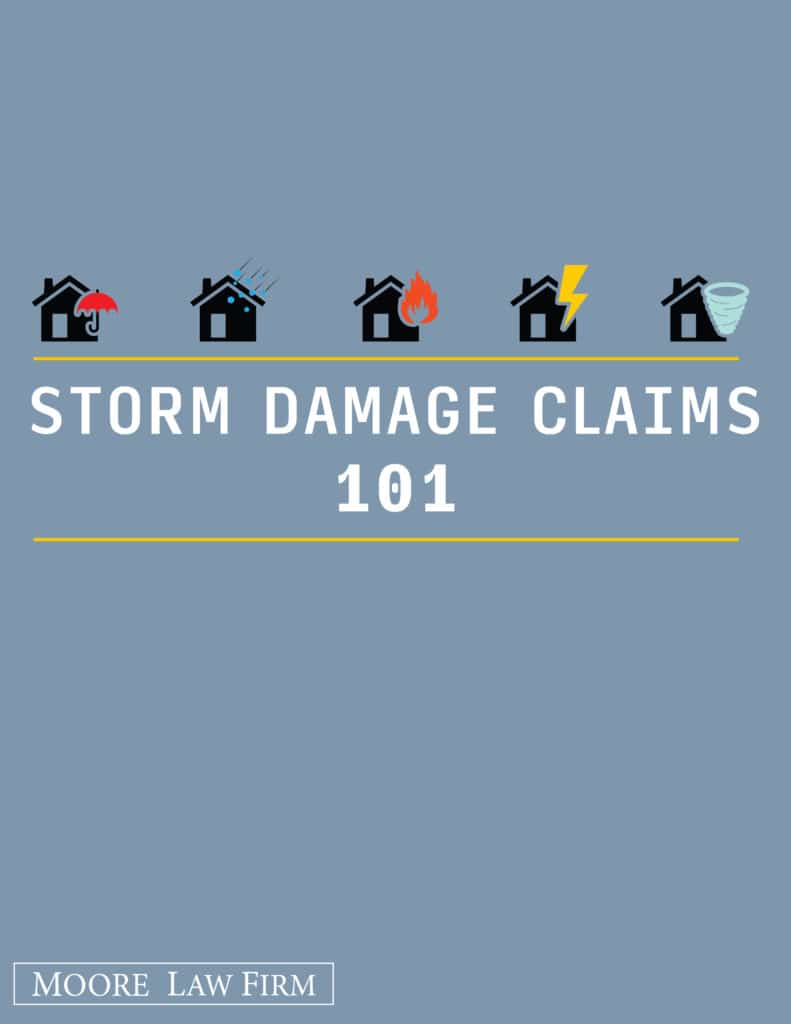 Call The Storm Damage Lawyers At Moore Law Firm Today
The storm damage claim lawyers at Moore Law Firm have over 25 years of storm damage litigation experience. Partner with Moore Law Firm today to receive a FREE storm damage inspection after your FREE consultation. Call Moore Law Firm today at 1-800-444-2780!
[contact-form-7 id="3537″ title="New Form 1″]