Hurricane Harvey – One Year Later
It's hard to imagine that it has already been one year since Hurricane Harvey made landfall on the Southeast Texas coast. The entire country watched in horror as images of Harvey's abominable destruction poured onto our television screens and all over social media. Cities like Rockport, Port Aransas, Aransas Pass, Ingleside all entirely destroyed, while the crossroads cities like Cuero, Refugio, and Victoria bore days of frightening winds that tore off roofs and collapsed entire buildings, and of course, Houston, which suffered through days of Harvey's torrential downpour, causing major flooding in an already flood-prone area.
In all, Hurricane Harvey took the lives of 107 people and ended as the 2nd costliest hurricane in US history, causing over $125 billion in property damage.
Experts fear, however, that with continuous changes to our climate, Hurricanes as devastating as Harvey may become more and more frequent.
Today, most cities affected by Harvey have thankfully recovered, however, many property owners continue to struggle with their insurance carriers to receive funds necessary to fix their damaged property.
How Should I Be Prepared For The Next Big Hurricane?
Have A Plan – Follow all government instructions for evacuation as well as plan your hurricane evacuation route, which can be found here. If you are not ordered to evacuate, make sure you have a plan for whatever may occur during and after the storm such as worst-case scenarios such as days without water or electricity. Purchase the obvious necessities such as food and water and a battery operated AM/FM radio.
Fuel Up – Go to your local gas station and fuel up your evacuation vehicle in the event that you are ordered to evacuate or there is a subsequent gas shortage in your area after the storm.
Have Cash in Hand – As resources and electricity may be scarce, make sure to have cash in hand in case of emergencies to purchase food or water.
Gather Insurance Documents – Make sure all of your insurance documents are in a safe place so that you may refer to them once the storm is over and you've likely had storm damage.
What Should I Do If My Storm Damage Insurance Claim is Denied or Underpaid?
Gather Insurance Correspondance – These documents are important in helping reverse your undervalued or denied claim. Every document you have sent to your insurance and every letter they have sent you should be considered evidence in a case.
Hire an Experienced Storm Damage Insurance Claim Attorney – Hiring a storm damage claim attorney could mean the difference between settling for next to nothing and getting your entire roof replaced. By seeking the help of an attorney who handles storm damage claims, you will have someone experienced with the insurance claims process on your side.
Download Your FREE Copy of the Moore Law Firm Storm Damage Claims 101 Guide
For more information on how you can challenge your storm damage insurance claim denial, download our FREE Storm Damage Claims 101 guide today!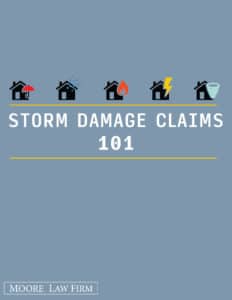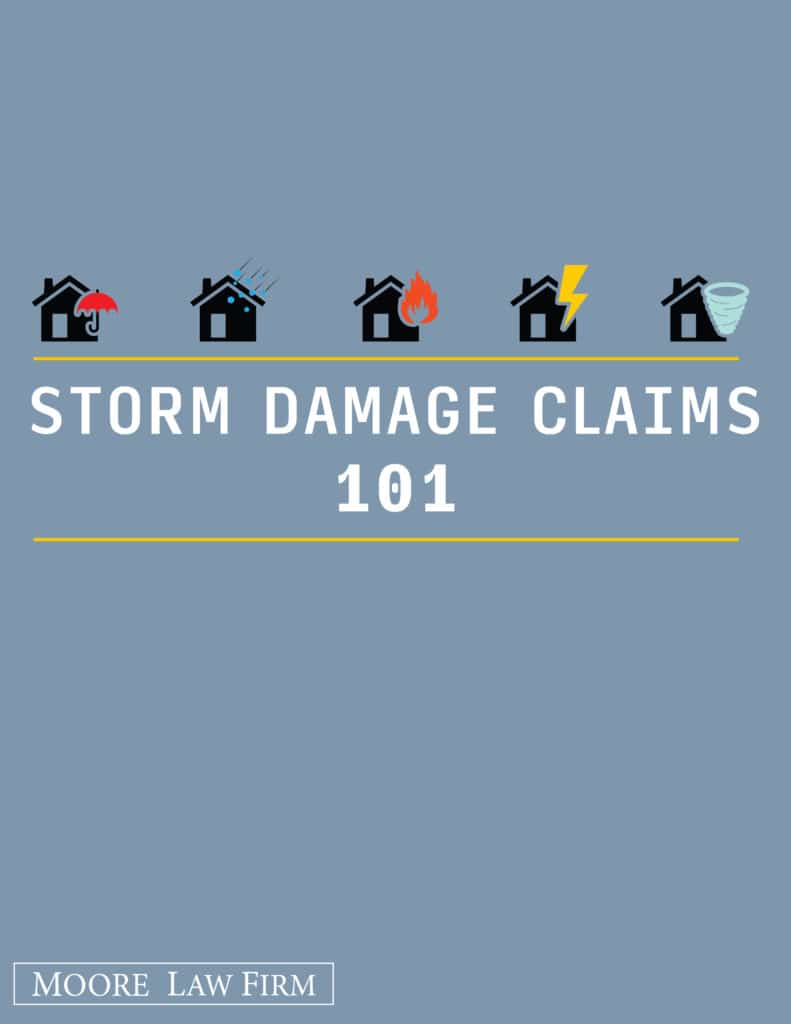 With over 25 years of storm damage insurance claim litigation, the storm damage attorneys at Moore Law Firm are ready to represent you with our array of legal resources at our disposal. Call Moore Law Firm today at 1-800-444-2780, fill out the form below, or just simply click the "Live Chat" button to speak to a LIVE representative!
[contact-form-7 id="3537″ title="New Form 1″]