(PHOTOS) Carrollton, Coppell, Arlington Texas Hit With Baseball-Sized Hail Causing $425 Million In Damages
Early Wednesday, at approximately 1:35 AM, baseball-sized hailstones pummelled the North Texas suburbs of Carrollton, Coppell, and Arlington Texas. As the day broke, residents woke up to shattered windows, dented or broken A/C units, cracked windshields, and broken skylights.
Brandi Rafael, a Coppell resident told the local CBS affiliate, "It actually sounded like God was throwing rocks at us."
According to the Texas Insurance Council, Wednesday morning's hailstorm cost an estimated $425 million in property damage, marking this as the first major Texas hailstorm in 2018.
Carrollton Hailstorm Photos
Pictures say a thousand words; here are some photos of Wednesday morning's Carrollton hailstorm:





Texas and Hailstorm Damages
Texas has had a tumultuous history with hailstorm damage in recent years. Since 2000, Texas has accounted for a whopping 20% the country's hailstorm damages annually, ranking Texas at the very top of the country for annual hailstorm property damage. Although hurricanes often receive more news coverage, in reality, hailstorms are the costliest storm events that Texans faces annually.
What To Do After A Hailstorm Hits
It's understandable that waking up to significant property damage may be disheartening, however in order to ensure that your hail damage claim is FAIRLY adjusted, hailstorm victims MUST commit to doing the following within the next 24 to 48 hours:
Get Your Claim Started Immediately – DO NOT WAIT – The longer you wait to file your hailstorm damage claim, the easier it will be for an insurance adjuster to deny or undervalue your claim. You want to ensure that your property damage is directly caused by the hailstorm.
Take Photos of All Damages – Again, you want to A) provide hard, timely evidence that point to the hailstorm as the cause of the property damage and B) ensure that ALL hailstorm damage is well documented.
 Make Temporary Repairs To Your Damaged Property, Keep Receipts – Your policy may require you to mitigate your hailstorm damages until your claim is fully resolved. Your policy may also allow you to submit receipts to used to lower your deductible.
Speak To An Experienced Hail Damage Attorney – It is almost a given that insurance companies will likely try to undervalue or deny your legitimate hail damage claim. Hiring an experienced hailstorm lawyer who has years litigating hail damage claims can help you navigate the stormy waters of fighting for your hailstorm damage claim.
Are You Prepared After A Hailstorm Hits? Download Your FREE Copy of the Moore Law Firm Texas Storm Damage Claims 101 Guide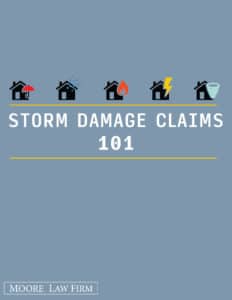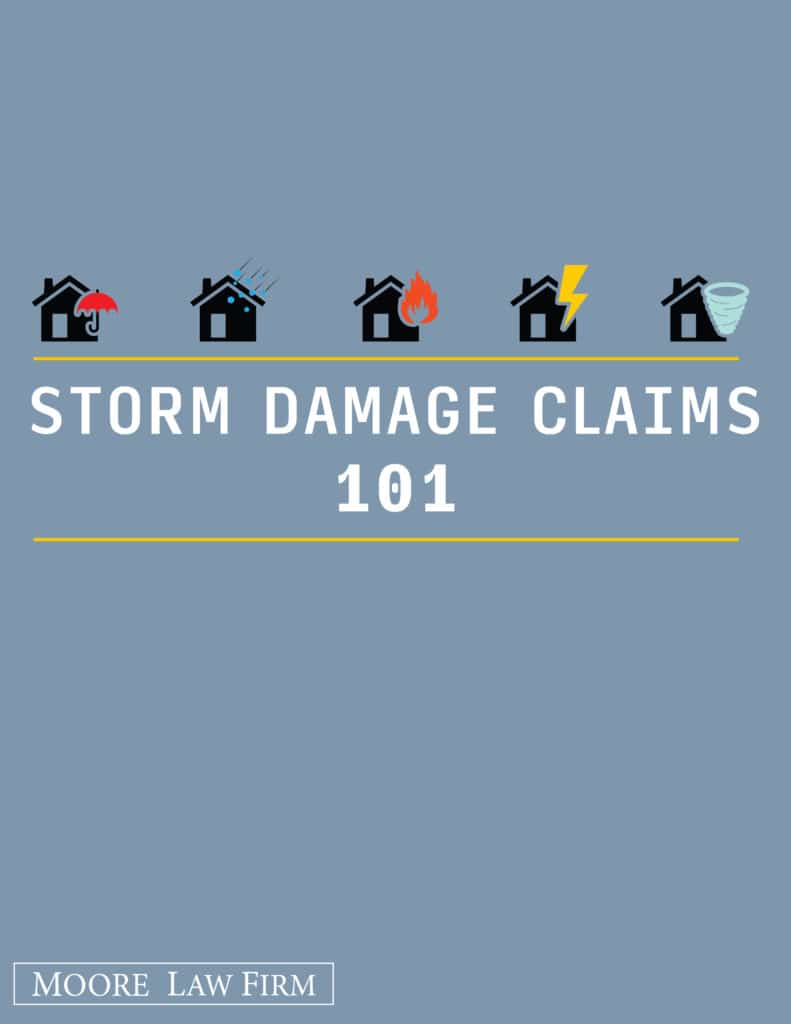 If you are looking for more information on how hail damage attorneys at Moore Law Firm can help with your storm damage claim, call 1-800-444-2780 right now! The consultation is free and it is absolutely FREE to start your case. If your hail damage claim needs a 2nd opinion, call the storm damage lawyers at Moore Law Firm today!