Texas Senator Submits Bill To Allow Hospitals To Continue Scamming Patients
A Texas Senator has filed a bill that would allow hospitals to continue gouging patients and continue their abuse of hospital liens against their own patients.
Hancock filed SB 1159 in an effort to change Chapter 55 of the Texas Property Code regarding hospital liens.
The proposed changes to the hospital lien law are as follows:
Sec. 55.0015. ADMISSION TO HOSPITAL. For purposes of this chapter, an injured individual is considered admitted to a hospital if the individual is allowed access to any department of the hospital for the provision of any treatment, care, or service to the individual.
To be clear, this bill is attempting to change the language of what "admitted to the hospital" actually means, completely ignoring years of medical professional standards, CMS guidelines, and even habitual abuser of the hospital lien law, South Texas Health System's OWN definition of the word "admitted to the hospital" means: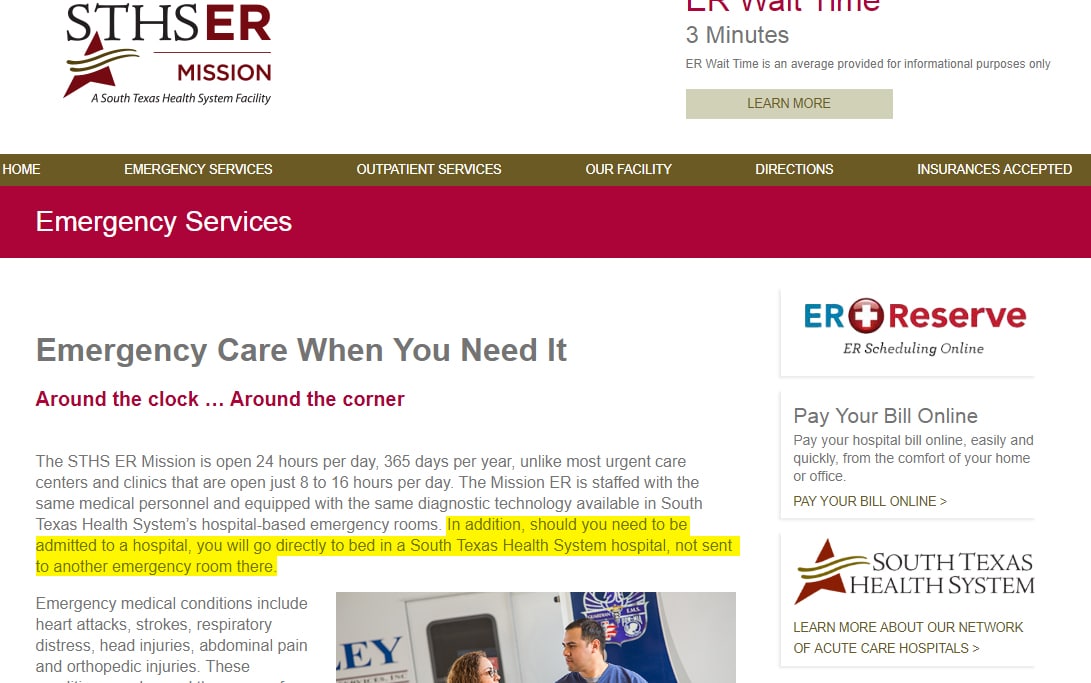 For the record, the Texas Senator's political action committee has received, over the course of only two years, an incredible $35,000 from Texans for Lawsuit Reform, a political action committee actively committed to limiting Texas residence from accessing justice in our Texas courts. Unsurprisingly, Hancock has also received honors from the Texas Hospital Association, awarding Hancock with the 2018 Texas Hospital Advocacy Tribute Award for his work in advocating for billion-dollar hospital companies who continue to gouge Texas patients every single day.
What Does The Current Hospital Lien Law Say?
The way the current hospital lien law is written, hospitals may file liens on patients ONLY if they have been admitted to the hospital and if the hospital lien DOES NOT exceed the reasonable and regular rate.
Sec. 55.002. LIEN. (a) A hospital has a lien on a cause of action or claim of an individual who receives hospital services for injuries caused by an accident that is attributed to the negligence of another person. For the lien to attach, the individual must be admitted to a hospital not later than 72 hours after the accident.
Sec. 55.004. AMOUNT OF LIEN. (d) A hospital lien described by Section 55.002(a) does not cover:
(1) charges for other services that exceed a reasonable and regular rate for the services;
Why Do Hospitals Want To Change The Hospital Lien Law?
So they can file hospital liens on as many people as possible so that they can make millions over their billions.
Every hospital in Texas saw what large hospitals like Hermann Memorial and McAllen Medical Center were doing by illegally filing hospital liens on people who WERE NEVER ADMITTED TO THE HOSPITAL and saw a gold-mine.
If they can, essentially, get rid of the "admitted to the hospital" requirement, they can file hospital liens on thousands of ER patients.
What Would Happen If This Change To The Hospital Lien Law Passes?
Thousands of Texas patients would be blindsided by hospitals liens that are filed with charges that are 600% to 1000% OVER market value for those medical procedures, that could potentially lead more patients to file for bankruptcy and can have terrible rippling effects in our economy.
Is Anybody Holding The Hospitals Accountable For Filing Illegal Fraudulent Hospital Liens?
Moore Law Firm has been at the forefront in the fight against hospitals who have scammed patients illegally abusing the Texas hospital lien law to extort patients out of their money.
We have filed lawsuits against hospitals who have filed fraudulent hospital liens on their patients who were only seen for a few hours in the emergency room and never admitted to the hospital.
Changing the hospital lien law with this sorry bill is simply a desperate attempt by the hospital industry to save face that they have been illegally abusing Texas hospital lien laws by weaponizing hopsital liens on patients who were never admitted to the hospital.
If you or a loved one have been a victim of hospital lien abuse, call the Texas hospital lien lawyers at 956-631-5436 immediately for your FAST and FREE consultation!