In Texas, Insurance Carriers May Be Required To Disclose If You Have Flood Coverage
The Texas Department of Insurance has made several recommendations to the Texas legislature for the 2019 Texas legislative session. One such recommendation, in response to the massive amounts of flooding that occurred during 2017's Hurricane Harvey, is a law that would require insurance carriers to "prominently disclose" if your property insurance does not include flood insurance.
From our experience in representing homeowners for their storm damage claims, a vast majority of our clients are completely unaware of whether or not their homeowner's policy covers flood damage. With this new law, Texas homeowner's will be much more well informed regarding their insurance coverage.
Although there are areas designated by the Federal Emergency Management Agency (FEMA) where homes are required to carry flood insurance, more than half of properties that were flooded by Hurricane Harvey were not in these areas, most of which did not have flood insurance.
Currently, Florida, Louisiana, Minnesota, New Hampshire, New York, and Washington have laws requiring insurance carriers to disclose that a policy does not cover flood damage and TDI has stated that Texas "could benefit from a similar requirement."
According to a report made by the Governor's Commission to Rebuild Texas, "Flooding covered an area of southeast Texas the size of the entire state of New Jersey. Cedar Bayou on the outskirts of Houston saw nearly 52 inches of rain; about 11,000 square miles of the region received at least 30 inches. Entire cities were cut off by flooded rivers and bayous."
In its wake, Hurricane Harvey caused $125 billion in damages and caused over 780,000 Texans to evacuate their homes as a little over a year later, some residents are still recovering.
If you are unsure whether you have flood insurance, it is always a best practice to speak to your insurance carrier so that they may be able to inform you of your coverage.
Speak to an experienced storm damage insurance claim lawyer as soon as possible. There is no time to wait as evidence of your legitimate storm claim is rapidly becoming stale. A storm damage claim lawyer can help go over your policy in detail with you and help determine what the next step could potentially be in having your claim negotiated. The deadline to file a lawsuit against your insurance company for defrauding you of your insurance benefits is coming up later in 2019.
.
---
Download Your FREE Copy of the Moore Law Firm Storm Damage Claims 101 Guide
For more information on how you can be prepared for the next major storm or hurricane, download our FREE Storm Damage Claims 101 guide today!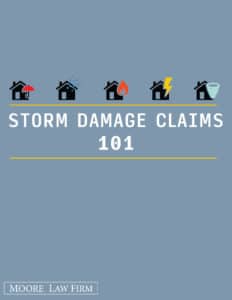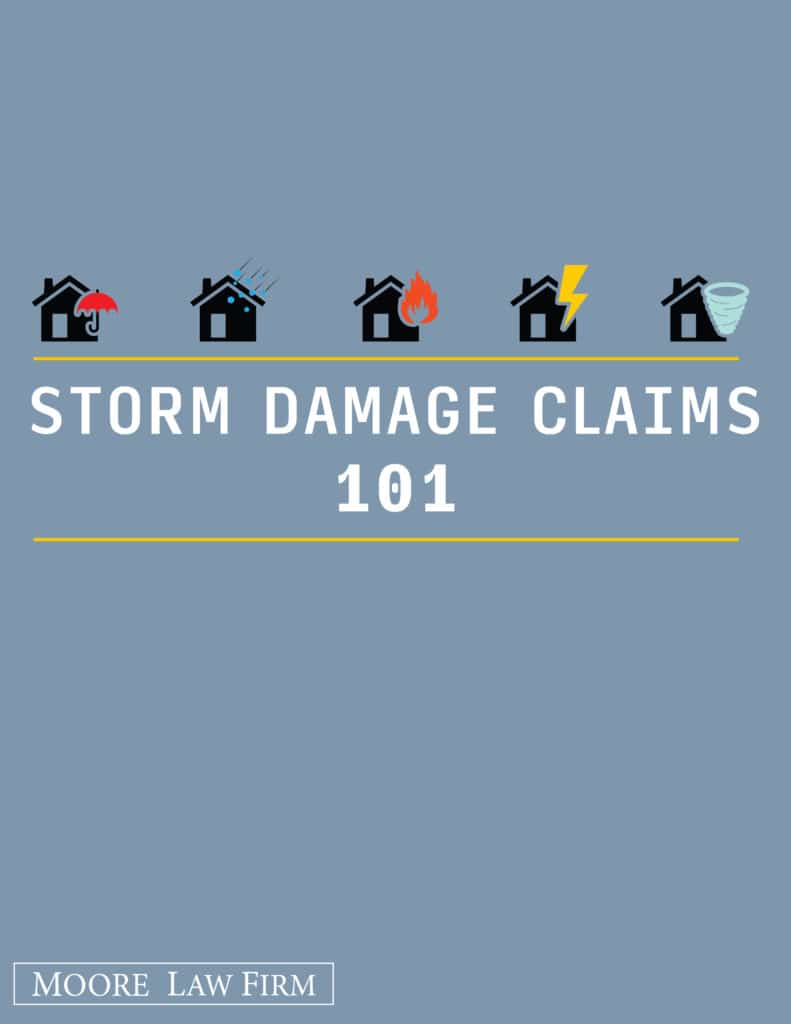 If your Harvey insurance claim has been denied, delayed, or underpaid, speak to a Hurricane Harvey storm damage insurance claim lawyer at Moore Law Firm today!