Tennis Ball Sized Hail Hits Midland (VIDEO)
A thunderstorm that passed through Midland and on through West of Abilene brought with it tennis ball-sized hail that left a trail of damage yesterday evening.
According to early reports, the hailstone sizes reached up to as high as 2.5″ in diameter between 6:00 PM and 7:00 PM CST along the Permian Basin. Cars littered with dents and broken windows as well as substantial roof damage has been reported in parts of Midland by numerous local sources.
This video taken by a Midland resident shows Security Bank Ballpark, home of the Midland RockHounds, being absolutely blanketed in hail.
Videos, Pictures, and Tweets Of The April 2019 Midland Hail Storm
Hail the size of GOLF BALLS covers the field in Midland postponing tonight's game. Hail storm raged for 20 minutes! Doubleheader scheduled for Wednesday night – Game 1 at 5pm. pic.twitter.com/RVwr4M60jE

— Tulsa Drillers (@TulsaDrillers) April 24, 2019
Impressive hail accumulations across Midland and even more Hail Fog in many resident areas across Midland. A lot of quarter sized hail fell in a short amount of time. Here's the result.

Thank you to Amber Mortensen. Stay safe. @NWSMidland #txwx pic.twitter.com/i3gDUtkOxX

— Joseph Neubauer (@JNeubauerWx) April 24, 2019
Wow, check out this hail from the Legends Park housing development in Midland! @NWSMidland @TxStormChasers #stormtracker9 pic.twitter.com/qVb118W0oD

— Nathan Santo Domingo (@NSDwx) April 24, 2019
Looks like about tennis ball sized hail from Legends Park in Midland! Hope everyone stayed safe! #txwx #StormTracker9

Photo Courtesy: Alyssa Helmcamp pic.twitter.com/uJXf9nHAuP

— Anthony Franze (@AnthonyFranzeWX) April 24, 2019
View of hail out of a newly-broken window in #Midland, Texas (Golf Course Rd and Andrews Highway area) 7:00pm. @NWSMidland #txwx pic.twitter.com/oEga4JysDf

— John Kejr (@johnkejr) April 24, 2019
What Should I Do If My House Was Hit By Hail?
Right now, you should be looking for signs of any damage to your home. Lifted or damaged shingles, cracked or broken windows are all common hail storm damage indicators. Another indicator is a leaky roof; if Midland sees rainfall over the next few days, keep a close eye for any water spots forming on your ceiling or walls.
If you DO find damage, take plenty of pictures and keep a diary of damages that you can refer back to and file a hail claim with your insurance.
When Does A Hail Damage Lawyer Get Involved In The Process?
As everyday people ourselves, we would love to see your insurance carrier give you the money you need to fix your damages 100%. As hail damage lawyers, we know they probably won't no matter how much we hope. If your hail damage claim is denied, delayed, or underpaid, you can always seek the advice of a hail damage lawyer who may be able to help recuperate the money from your legitimate claim.
If a skilled hail storm lawyer can prove that your insurance company acted in what's called "bad faith," then you may be entitled to three times as much money for punishment against your carrier.
Are You Prepared After A Hailstorm Hits? Download Your FREE Copy of the Moore Law Firm Texas Storm Damage Claims 101 Guide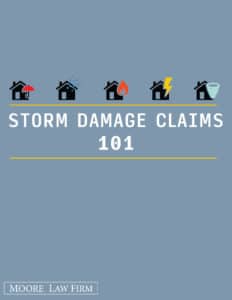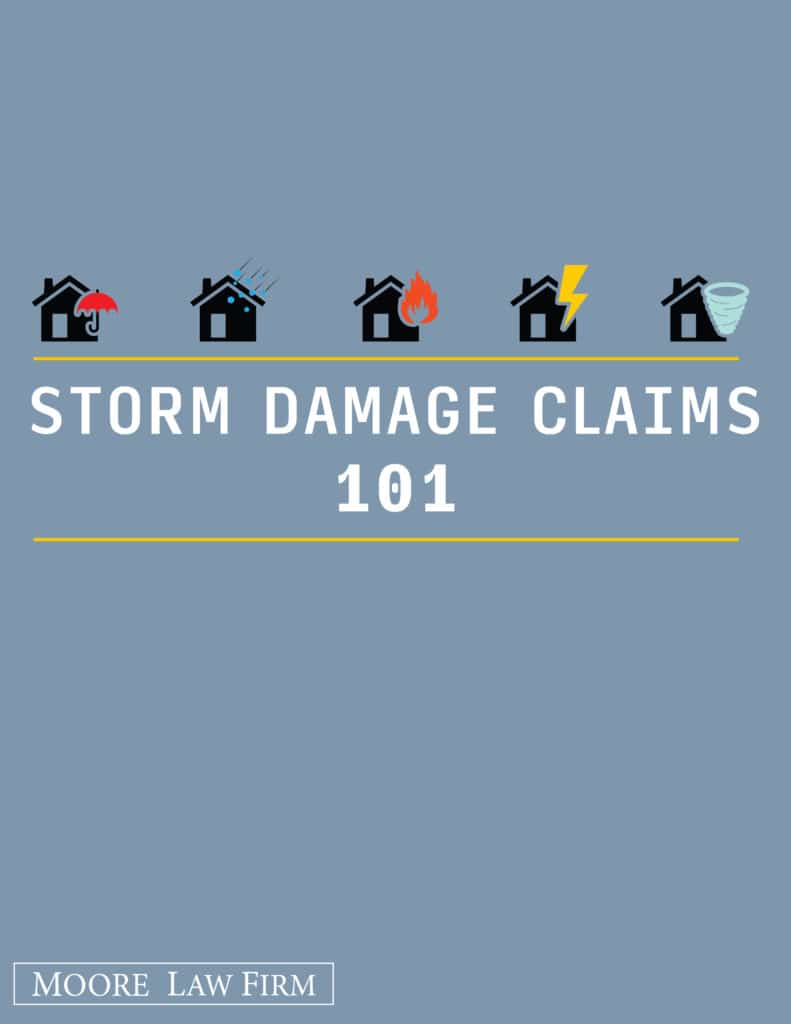 If you are looking for more information on how hail damage attorneys at Moore Law Firm can help with your storm damage claim, call 1-800-444-2780 right now! The consultation is free and it is absolutely FREE to start your case. If your hail damage claim needs a 2nd opinion, call the storm damage lawyers at Moore Law Firm today!