5 Critical Mistakes Homeowners Make That Can Kill Their Storm Damage Insurance Claims
Hurricane season is here and if 2017 was any indicator of how destructive these storms are becoming, we may be in for a far more disastrous 2018. With many legitimate storm damage insurance claims being denied, delayed, and underpaid in 2017, many homeowners still don't understand the pitfalls that can absolutely sink their chances on recuperating any funds to repair their homes.
Many of these hard-working, premium paying homeowners may be asking themselves:
Why Was My Storm Damage Insurance Claim Denied or Underpaid?
This is often easy to answer as legitimate denials may include damages don't meet the deductible, not storm-related damages, not a covered peril. However, if litigating storm damage claims for over 25 years has taught us anything it's this one simple truth:
Many storm damage denials or underpaid storm damage claims CAN BE AVOIDED!
Fortunately, we, the storm damage insurance claim attorneys at Moore Law Firm, have compiled the top 5 mistakes that homeowners make that can kill their storm damage claims and should ABSOLUTELY AVOID MAKING AT ALL COSTS:
1. Homeowners don't file a timely claim for their storm damage; blow deadlines
This is the most common mistake that homeowners make; it's the mistake is that's the easiest to avoid and the costliest to make. If your home or business has suffered any storm damage, you MUST call your insurance carrier immediately and file a claim.
Some policies also come with a deadline for when you can file a storm damage claim. Naturally, every insurance policy is written differently as some policies allow homeowners as little as a few days up to 4 years. If a homeowner doesn't file within these strict deadlines, there's virtually nothing that can be done to have their insurance pay for those damages.
However, regardless of what your insurance carrier's deadline is,  you must ALWAYS file your claim immediately.
A good way to ensure homeowners avoid making this mistake is to imagine your house as the scene of a crime. Days after the storm has hit, the evidence is still fresh and it clearly points to the storm as the culprit. The insurance adjuster will be able to see that clear as day. However, if you allow more weeks and months go by before you finally file your storm damage claim, then that evidence may not be so clear. Perhaps another storm has hit since then and now nobody is sure what damages were made by what. By filing late, homeowners are giving their insurance carrier a window of opportunity to undervalue or even deny their claim.
2. Homeowners don't mitigate the storm damage to their homes; tarps, temporary repairs
So you've filed your storm damage claim immediately after the storm hit your area; now what?
If your area has been through a major storm, chances are your carrier's adjusters may take several days before they are able to adjust your home. Most homeowners policies have provisions included that state that while the home's storm damage claim is being processed, the policyholder is obligated to mitigate the storm damages. Putting up a tarp on your roof as well as covering up broken windows to keep rainwater from entering your home.
By NOT mitigating your storm damages, you may run the risk of any extended damages not being covered for failure to comply with policy provisions which could significantly harm your chances of receiving necessary funds to completely repair your home.
3. Homeowners don't document storm damage on their own
We say this time and time again: Pictures say a thousand words. You know your home better than anybody and likely better than the adjuster your carrier is going to send over. Take photos of everything that you can find that is damaged by the storm.
Not doing so puts your storm damage claim at the mercy of an adjuster who A) may not be very experienced at adjusting storm damage claims and B) who ultimately works for your insurance company and NOT FOR YOU.
4. Homeowners accept the first settlement offer they receive from their insurance
For many homeowners, hassling with your insurance adjusters and carrier has been an ordeal and a half. Most just want to get their homes repaired as soon as possible so they'll erroneously jump at the first offer that their insurance sent out. Not only is this a tremendous mistake, it's another that may not be undone as some insurance carriers may not allow your claim to be re-opened after cashing their check.
As we have explained previously, homeowners should never EVER take the first offer they receive from their insurance. In all likelihood, that offer is significantly less than what their total storm damages are worth actually worth.
Often times, however, the homeowner has never really dealt with dealing with a storm damage claim and often don't understand what to expect, which is why the last mistake is probably the most critical:
5. Homeowners don't hire an experienced storm damage claim lawyer to fight for their storm damage insurance claim
Did you know that hiring an experienced storm damage insurance claim lawyer to negotiate your insurance claim may pay you out an average 3.5 times more than without representation? Hiring an attorney who has dealt with storm damage insurance claims can simply mean a world of difference between receiving the funds necessary to repair your home or not.
So hiring an attorney should a be a no-brainer for most homeowners, right? Unfortunately, often times homeowners balk at hiring an attorney for this one simple misconception:
"I'm struggling to get money to fix my home right now. I can't afford to hire an attorney!"
Most homeowners believe you have to fork over THOUSANDS of dollars in retainer fees to hire a good storm damage insurance attorney. This could not be further from the truth. Most storm damage claim attorneys actually work on what's called a contingency fee, which means they take a percentage of the total recovery they are able to obtain from the insurance company and NOT from the client.
For example, at Moore Law Firm we understand that most every-day homeowners shouldn't have to worry about having to afford great representation for their storm damage claim which is why we offer the following to all of our clients:
FREE case consultations
FREE to start your case
If we cannot resolve our client's matter, the client pays NOTHING.
ZERO out-of-pocket costs
Even if you feel that it isn't necessary to hire a storm damage attorney for your claim, it's always best for a 2nd set of trained eyes to go over your policy and your claim to help determine whether your insurance company adjusted your storm damages fairly.
Download Your FREE Copy of the Moore Law Firm Storm Damage Claims 101 Guide
For more information on how you can avoid these 5 critical mistakes and help bolster your chances of winning your storm damage claim, download our FREE Storm Damage Claims 101 guide today!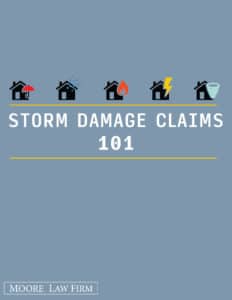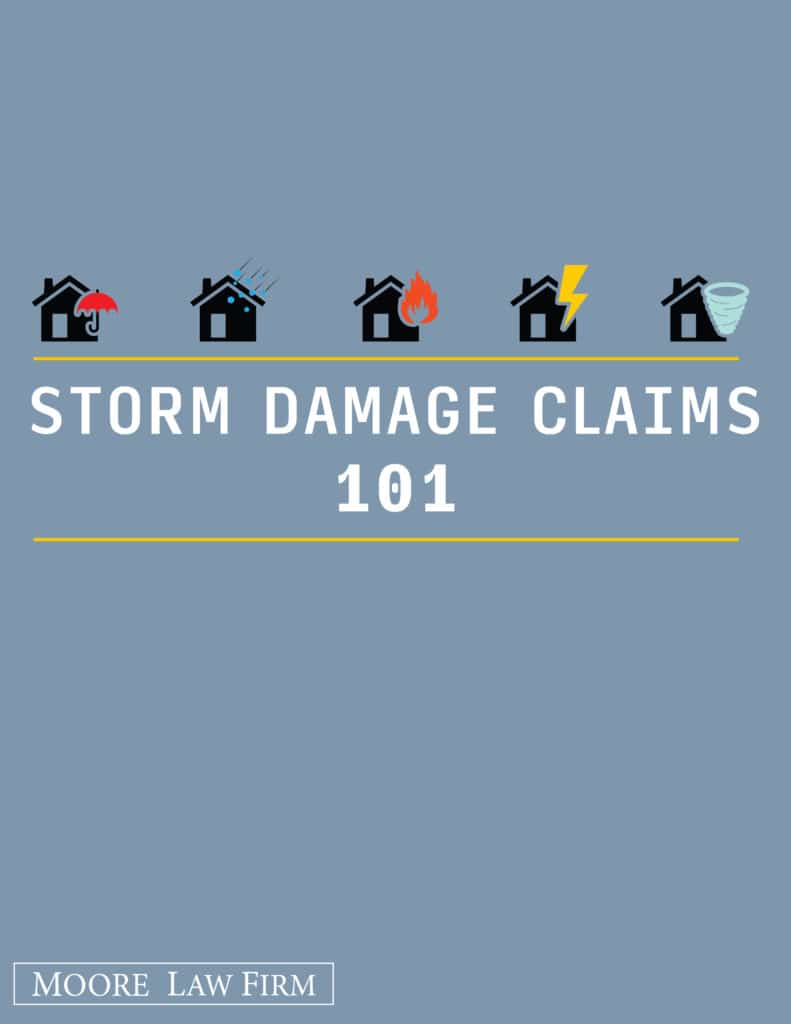 With offices in McAllen and Houston, the Storm Damage Lawyers at Moore Law Firm are here to help resolve your storm damage claim. Call for a FREE consultation at 1-800-444-2780 or chat LIVE with us by clicking the "LIVE CHAT" button below!
[contact-form-7 id="3537″ title="New Form 1″]